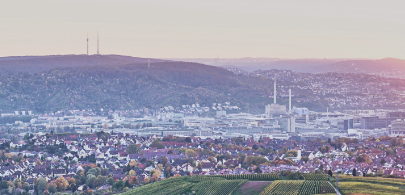 Our ITIL 4 trainings and dates in Stuttgart
"Effective IT service management and proven framework."
ITIL in Stuttgart? SERVIEW shows the way! With our dynamic ITIL trainings in the capital of Baden-Württemberg we help you to new career impulses. We offer the right ITIL training in Stuttgart for all levels of experience - from Foundation to Managing Professional, Strategic Leader or Extension modules. The subsequent certification exam is an integral part of all course dates: After you have completed your ITIL training in Stuttgart, you take the exam online on a date of your choice. This is how you officially prove your newly acquired knowledge.
During the training comes as always our innovative SERVIEW Workbook Principle® for use. This means fun, sustainable learning speed and maximum practical relevance - because we make no compromises in your ITIL training in Stuttgart. Become an active part of the training yourself, discuss and exchange ideas with your ITIL trainers and other training participants. In Stuttgart, you will get exactly the ITIL input you need for your career. Choose your course now and get started!
This is who we are: The SERVIEW trainers introduce themselves
Discover the creative minds behind SERVIEW! Our unique team of trainers consists of highly motivated professionals from a wide range of disciplines, ready to share their knowledge and expertise with you. With us, qualification and passion come together - the perfect combination to inspire you and take you further!
Trainings by cities
All ITIL trainings in Berlin, Düsseldorf, Dresden, Frankfurt, Hamburg, Cologne, Leipzig, Munich, Nuremberg, Stuttgart, e-learning, blended learning or live online.
See for yourself: SERVIEW Advantages
Term guarantee
100% secure
Uncompromisingly safe with the SERVIEW schedule guarantee. Thwarted plans, short-term failures, hassle? Not with us!
SERVIEW
Exam insurance
Secure framework for your exam taking and free exam retake in case of failure.

Maximum flexibility:
SERVIEW training formats
Our trainings are available in a wide variety of formats - there is something for every type of learner!